Jump Starter
Which scenarios will require car emergency jump starters?
Sep 20, 2023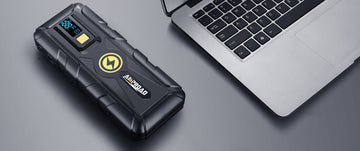 Car jump starters are like jumper cables, but they don't require a second car. Also called jump boxes or battery jump starter walmart, they provide all the power that you need to start a car with a battery that's run out of juice. Most come with an AC adapter that you plug into a wall outlet to keep the box charged. You'll also find jump starters that have built-in lights that come in handy in the dark, especially while clamping the cables to the battery terminals.
The car emergency start power supply is a very convenient automotive product. Those who have used it should be able to understand that it is equivalent to the size of a mobile phone power bank, but its function completely suppresses that of an ordinary mobile phone power bank. So in what scenario can we need to use a car emergency start power supply?
Scenario 1: Vehicle battery failure
Save money and worry, and there is no need to go around begging people to start the car, easy to handle on your own.
Scenario 2: Mobile phone charging requirements
Of course, there is another view that this is unnecessary, because if you charge your phone, everyone now has a mobile power bank, and a few charges are enough.
If our car encounters spark starting problems, many drivers believe that it is best to use a manual transmission to push the car; We can also consider connecting automatic transmission models.
Scenario 3: Use of Outdoor Camping
If we want to go outdoors for self driving and camping, it is very useful.
This not only means that power bank jump starter can serve as an emergency starting power source for cars, but also a super large power pack. At night, we can also use it to charge our phones and laptops without consuming the battery of our car.
Scenario 4: Emergency Alarm
Many car emergency starting power supplies come with SOS function, so when in trouble, you can urgently seek help
Scene 5: Night Lighting
Outdoor lighting can last for a long time, allowing you to no longer face darkness.
If your car battery is still very new, that is to say, if it has been in use for less than a year, I don't think you need to worry about battery issues to start the car.
Even if there is a problem with the car not starting, I believe it is still possible to park on the road and borrow electricity. After all, there are still many good people, so there is no need to purchase a car protable jump starter for a new car. But if you have a car emergency starting power supply at home, remember to bring it with you and be prepared when going out.