Jump Starter
FAQs for portable car jump starters
Sep 17, 2023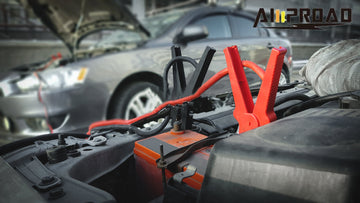 How to choose a portable battery jump starter?
When choosing a portable battery jump starter, the first thing you'll want to consider is what you're planning on using it for. Most car battery jump starters and battery chargers offer some flexibility, but some portable car jump starter options are more limited in what you can do with them. If you're not worried about running a small television when the power fails, you probably shouldn't worry about getting a portable car battery with a built-in AC inverter, so make sure the battery pack features have enough power and are right for your needs.
Does total storage capacity matter in portable jump starters?
Usually measured in amp hours or milliamp hours (1,000 mAh equals 1 Ah), total storage capacity matters more if you plan to use your portable jump starter battery and portable car battery charger as a backup or mobile power source. A higher number means more electrical storage capacity. Typical portable batteries are rated from five to 22 amp hours.
How many amps should a portable jump starter have?
Many portable jump starters indicate the starting amps. This is particularly important if you plan to use your portable battery primarily for its original purpose: jump starting engines. A big V8 engine -- particularly a diesel engine -- could require upwards of 500 ampere current to turnover a dead battery on a cold day. If that's what you need to do, you'll have a harder time doing it with a battery jump starter intended for a four-cylinder. Most manufacturers rate their portable car starters and motorcycle jump starter batteries for types of engines, so read the fine print for your jump starter battery. Look for starting or cranking amps, and don't worry much about the peak amps.
What about battery chemistry of portable jump starters?
The chemistry composition of portable car batteries can run the gamut, from sealed lead acid battery options to absorbent glass mat to lithium jump battery starter and, recently, ultracapacitors. The chemistry matters less for ultimate utility and more for weight, size and, to a lesser extent, cost. If you want something you can keep in your glove box, it's probably not going to be a sealed lead-acid battery booster. 
What other portable jump starter features do I need to look for?
Many portable jump starters come with additional features, but the issue is size and weight. Add all of the features in one unit and the jump starter gets much bulkier, with weight exceeding 30 pounds. For some purposes -- camping trips for example -- that may not matter much. On the other hand, you may not want to be carrying one of the bigger portable car batteries around in your Mazda Miata. Some manufacturers, including the highly rated Antigravity brand, are starting to offer separate accessories like a small, powerful air compressor that work with their paperback-size lithium-polymer jump starter batteries, but this approach tends to add to the cost.