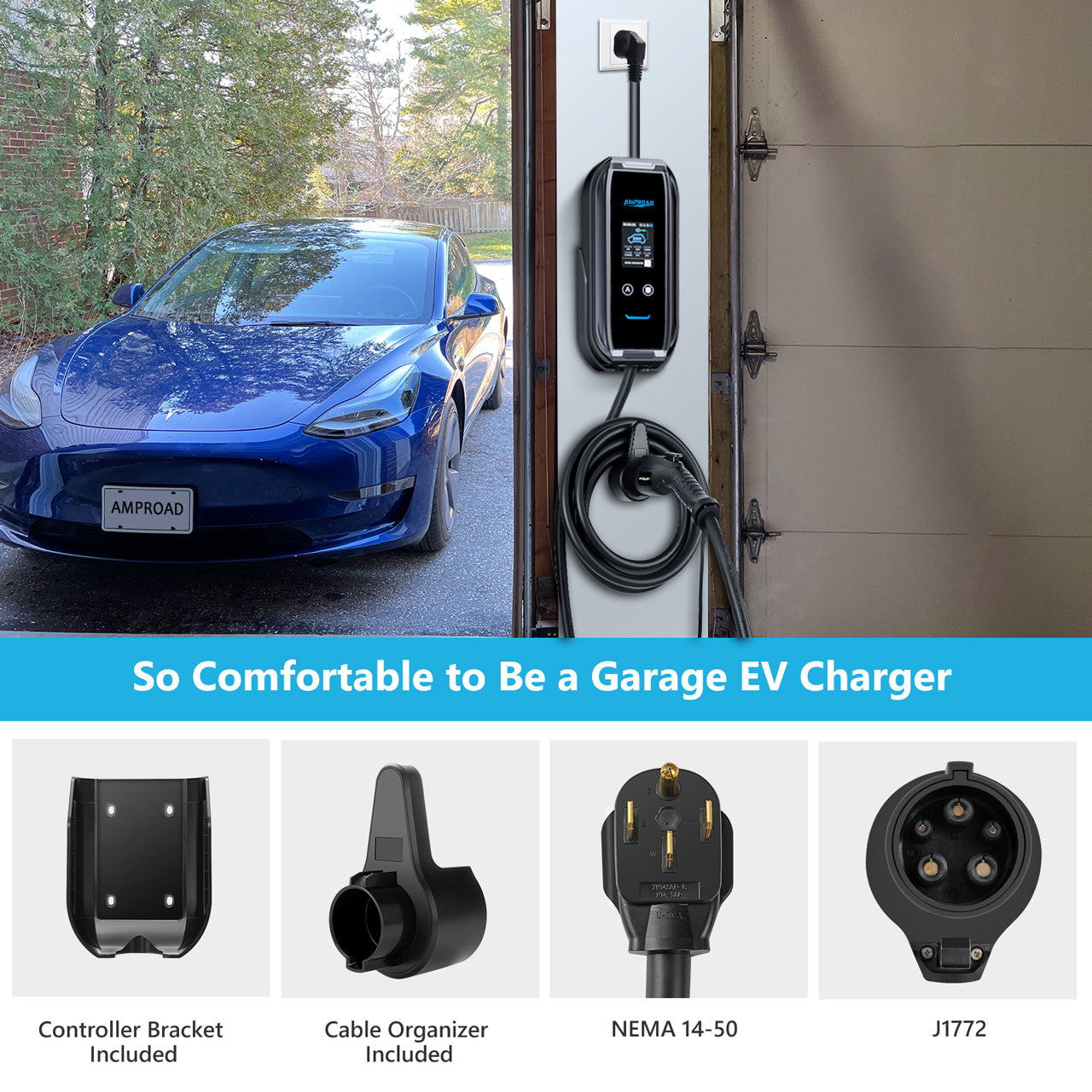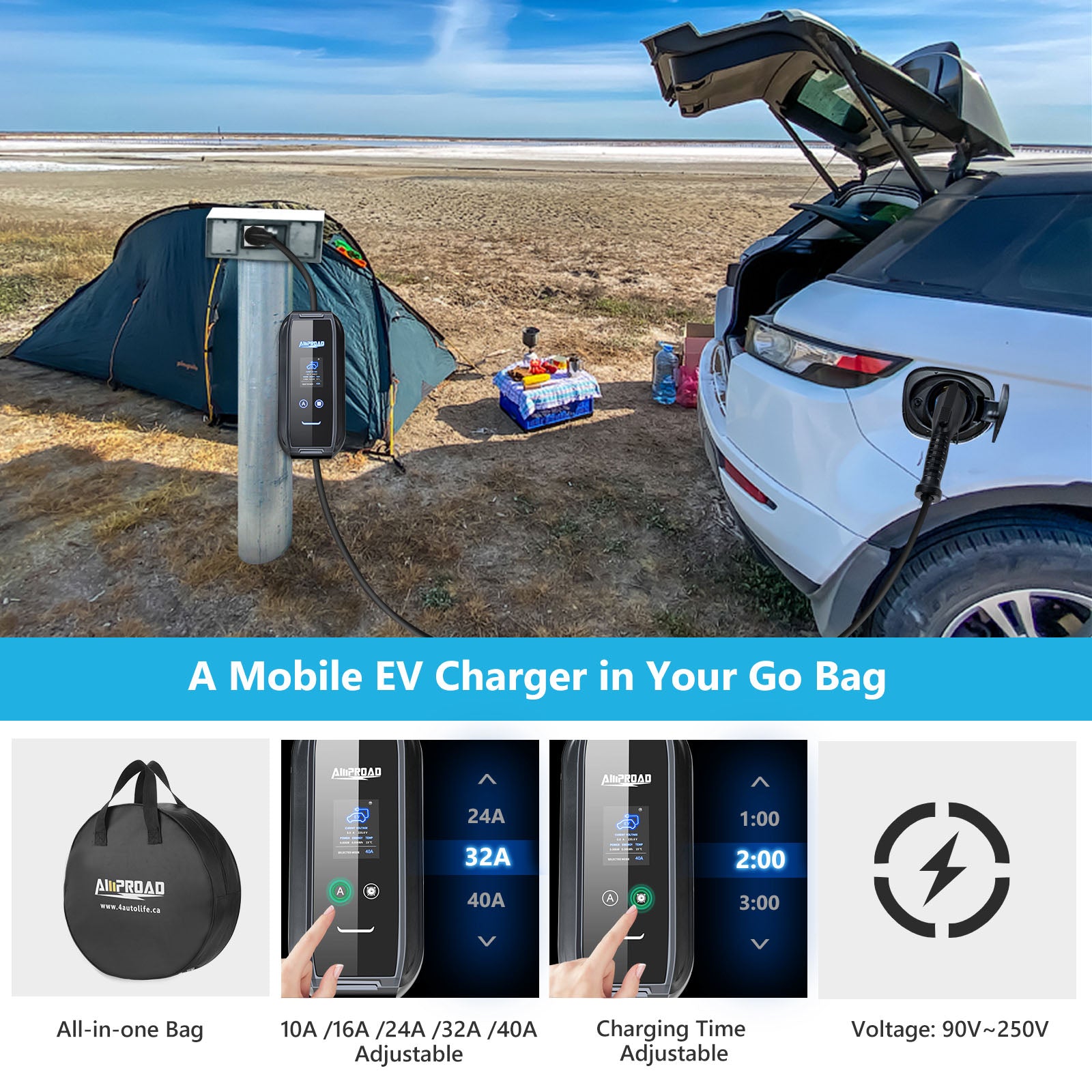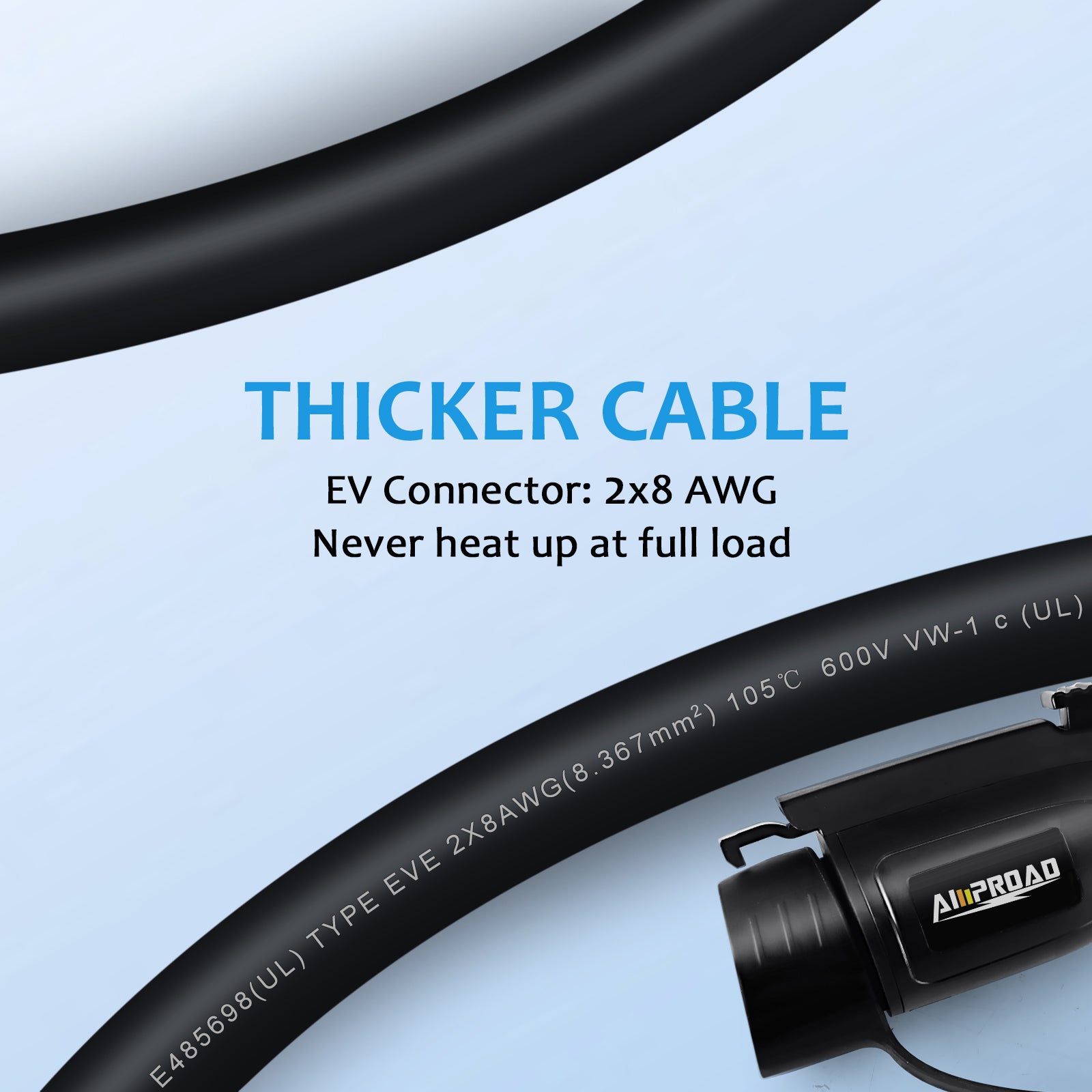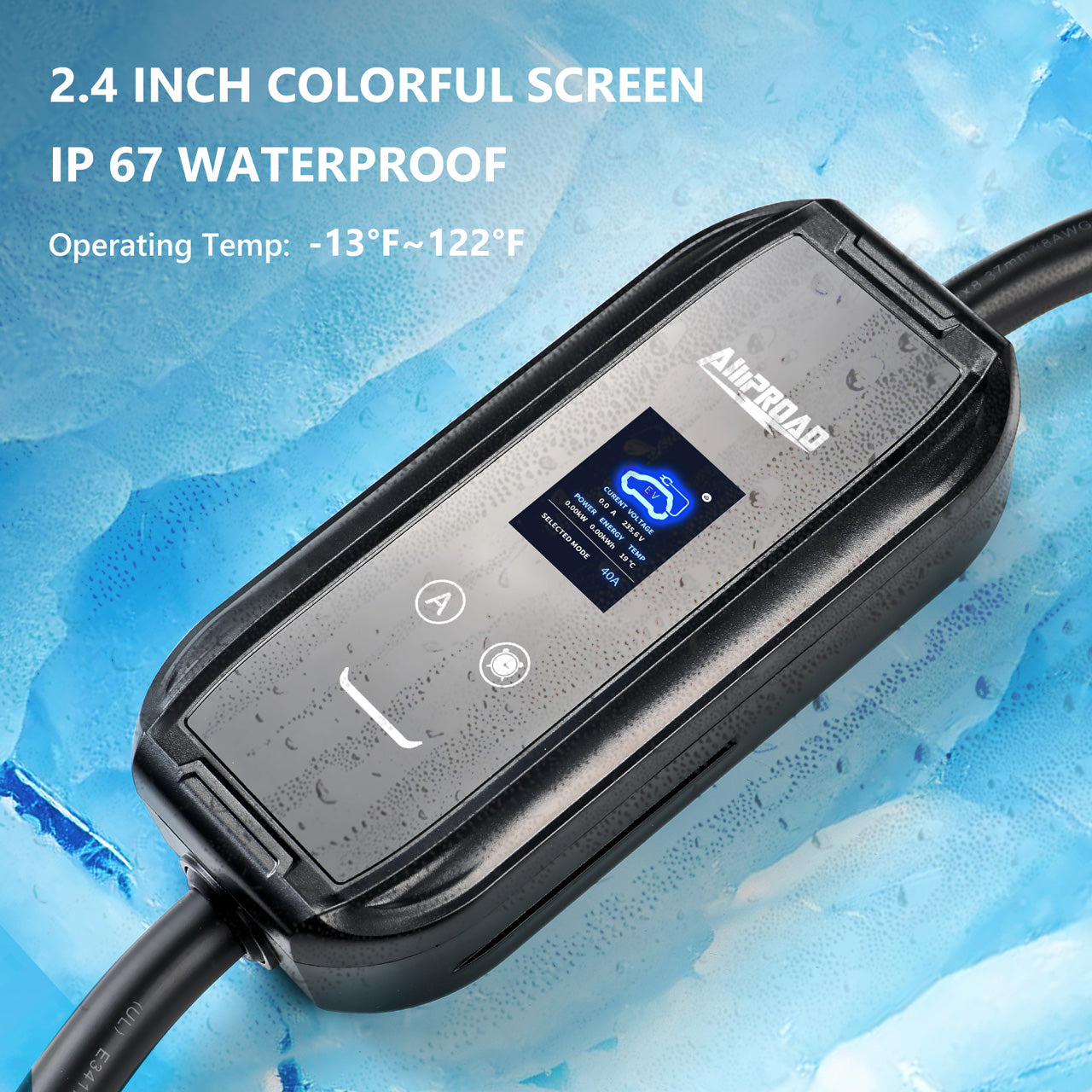 AMPROAD iFlow P9 EV Charger 10A/16A/24A/32A/40A
▪   A residential EV charger & A mobile charger on the go
▪   Leve1 & Level2 : 10A /16A /24A /32A /40A adjustable
▪   Voltage range: 90~250V
▪   Smart-phone enabled
▪   Industry-standard J1772 plugs, Nema 14-50, 25-ft cable
▪   Compatible with all EVs and PHEVs Today
▪   Compatible with Tesla via a J1772 to Tesla adaptor
Regular price
$359.99 USD
Sale price
$359.99 USD
Regular price
$459.99 USD
25 people are viewing this right now
Estimated Delivery :Oct 01 - Oct 05

Free Shipping : On all orders over US$99
AMPROAD iFlow P9 EV Charger 10A/16A/24A/32A/40A
Regular price
$359.99 USD
Sale price
$359.99 USD
Regular price
$459.99 USD
Great Value for Money
Experience fast and reliable charging for your electric vehicle with the iFlow P9. It is designed to meet all your charging needs at home or on the go. Each charger is rigorously tested to ensure stable and safe charging for your EV, giving you the peace of mind you deserve."
Same Power, Better Price

Compared to home charging stations priced above $600, iFlow P9 offers the same charging capacity of up to 40A, 7x faster than a level 1 EV charging cable. However, iFlow P9 comes at a more affordable price, providing you with the same power for less

One EV charger for Two Applications

No need to spend money on both an EVSE for home and a mobile connector for your trips. With a single unit payment, iFlow P9 can serve both purposes, allowing you to charge your EV at home and on-the-go with ease.

Rugged Cable & Full Accesorries

With its thicker cord than competitors, the iFlow P9 ensures better charging performance without overheating. It's also out-of-the-box ready with a wall bracket, connector holster, and all-in-one packing bag included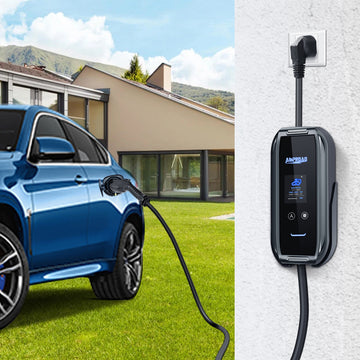 Flexible
Enjoy the flexibility of the Level 1 & Level 2 iFlow P9 EV charger, designed for multi scenario applications, featured with 10A/16A/ 24A/32A/40A charging power, 90V~250V voltage, along with long cord.
Multi-AMP EV Charger

Considering different home circuit ratings, the iFlow P9 is designed with adjustable charging power: 10A/16A for 20A breaker; 10A~24A for 30A breaker; 10A~32A for 40A breaker, and 10~40A for 50A breaker

Wide Voltage range

Another highlight is its wide voltage range, supporting both 110V and 220V outlets. You can charge your EV at home, workplace, your parents' house, campgrounds, and more.

25-ft Cable Length

Cable length is crucial when using a single EV charger for various scenarios since not all sockets are at the same distance from the car, and the iFlow P9 provides it.
More detail
iFlow P9 EV Charger
Wall Bracket
Connector Hostler
All-in-one Carry Bag
User Mannual
Brand : AMPROAD
Model : iFlow P9
Amprate Settings : 10A /16A /24A /32A /40A
Voltage Range : 90V ~ 250V
Cable Length : 25-ft
IP Grade : IP65
Weight : 16.46 Pounds
Dimension : 9.65x3.98x2.64 inches
Operation TEMP : -13°F~122°F
Leakage Protection
High TEMP Protection
Over Voltage Protection
Over Current Protection
Lightning Protection
Ungrounded Protection
Ready For Your Electric Vehicle.
Compatible with all EVs and plug-in hybrid vehicles in North America today, the iFlow P9 features 8 layers of safety protection to ensure stable charging and longer battery lifespan. Orders are typically shipped from our U.S. and Canadian warehouses within 1-2 business days.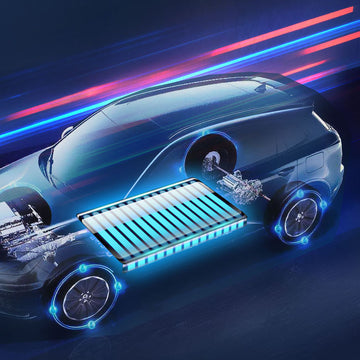 Amazing for the price! UPDATE; Still great after 7 months!
This unit is extremely well built for the money!
I have a new Kia EV6 that is my first EV, and I had a Nema 14-50P outlet installed on my house to charge it, however I needed a charger that could make use of the full 40A current. This little guy does it, no problem! However, I shouldn't say little, this thing is built like a brick house! The control box is made very well, seems to have either silicone or neoprene bushings where the cable enters to seal out water, the case is made of a glass-fibre reinforced ABS plastic, which is very durable in all weather.
I have left this out in torrential rain and cold, icy conditions. It has never faultered in either condition, I am very impressed with it so far.
Now for the meat and potatoes; the charging experience.
The wifi function is great, you do have to have it unplugged to change any setting with it, but that's no issue really, as all of the multi-mode chargers have to be unplugged to change settings. It is nice because it has a built in KWH meter, that measures the useage until reset, so you have a total amount for when the electricity bill comes due. This is a very useful feature, if the vehicle does not have it built in, itself.
The charging handle is HEAVY, mainly due to the immense cable weight. The cable never gets even remotely warm at full load, it is UL listed as well. The handle has a metal release catch, this is great because with the cheaper plastic ones, it can be bent and pulled out from your car if some a-hole decides they want to charge when you are! It also helps to prevent theft of the charger as well, as they'd have to cause some serious damage to the cable and the vehicle to remove it when it's plugged in and locked in. The EVSE also has a function wherein you must login to the WiFi to turn on the charger, I have this enabled and it works great. Overall the cable, box, and charging experience are top-notch.
In the end, I feel this charger is very good for the money, I got the $100 off coupon so it was only $370~ shipped to me, which is a steal for this quality of product. The normal $450 price tag is absolutely acceptable for what you get, this definitely sets a new standard at the price-point. Very happy with this purchase.
***UPDATE*** 2 Months of outdoor storage (I do not have a garage) in below freezing, terrible thunderstorms, heatwaves with a head index well above 100, this thing takes it all. Never has water entered the plug, and the cover that comes with the charging handle to cover it from the weather is absolutely weatherproof. The cover has multiple grooves in it's sealing surface to ensure a watertight seal, which is well designed, as this is a well known design strategy when making something waterproof. The seal that also seals the gun to the port on the vehicle also utilizes this, wherein my cheaper chargers use a soft O-ring in an indent in the charge port. This works, but will wear out. The design on this will last much longer and provide a better seal. The seal also definitely isn't rubber, feels like neoprene or very high quality silicone.
I would buy another one of these in a heartbeat, I highly recommend this as an all-weather portable or mountable EVSE that isn't huge, but still way overbuilt for it's purpose.
I would also like to see this put into a 48A wall mount hardwired version from this company, maintaining the quality. If one of those comes out or there is a beta version, I'd be up for testing it.
Overall, I'd give this 6 stars if I could, there's not much better quality out there currently. I will update the reviews if there are any issues, but so far, smooth sailing.
***UPDATE 2***
Figured I'd give a 7 month update. The weather has turned very cold where I am, we're talking nights in the teens and twenties. The cable remains pliable, not as much as in the summer, but the exact same pliability that you'd get with any public station. All features still working a treat, the cable and charging handle show nearly no signs of wear after months of use, still tight fitting in the vehicle. This is definitely solid for the price.
Great Product and Support
This charger checks all of the boxes for me. It works great as a travel charger with the option to use on a wide range of outlets using adapters. Because of the 90-250 voltage range input you can use a 110/120v outlet if that's all that's available. I've used it on 15, 30 and 50 amp outlets and it works perfectly. Just make sure to adjust the amp setting on the charger to 80% or below of the breaker rating. As others have stated the charger also includes 10 and 16 amp settings.
The charger appears to be very robust and has a flexible, thick 25 ft charging cable. The display is not large, but it's easily viewable and gives you plenty of useful information. The selection buttons are very responsive and user friendly.
I emailed a few questions after purchasing and their support is great. Each of my questions was answered promptly and thoroughly. It's nice to know that the folks that that sell a product understand how it works and can convey that to the customer.
If it holds up over time, I'll be a happy camper.
ID.4 Level 2 charger welcome
Took me some time to do the right set up from 240v outlet to Level 2 charger . Probably around 2-3 month? So far all is working as desire , very happy with this set up . Charing my new ID.4 at 40A with 9.6Kw output on charger and around 9Kw input on ID.4 screen . Says it is giving 29 miles per hour . Initially was thinking about 50A charger with 11.5Kw per hour but its too much stress on my wallet and on my 240v set up . I have 50A switch will is working fine with 40A charger and with 30 miles per hour it will charge my ID.4 from 10% to 80% in around 6 hours which is exact cheap enemy time in Chicagoland from 10PM to 6AM . This charger also has a digital display which is hard to find on these chargers ( have no idea why ! ) . Overall 5 stars for the Value for the Money !!!
Great charger/very reasonable price
Great value,Great customer service .Thank you Leo for your help with questions. I've been using this charger on 32 volt setting almost daily for about 5- 6 months without any issues.
If I ever needed another one I would buy the same one . I charge my 2022 Chevy bolt Euv. With it in my garage.
Excellent charger
This charger is better than the one that came with the car!!!