Jump Starter
When is Dangerous to Jump-Start a Car With a Jump Box?
Sep 10, 2023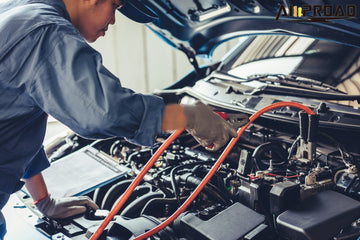 The major sources of danger when you jump-start a car apply whether you use another car or a jump box as the source of power. The first is that the dead battery may have explosive gas leaking out of it. The second is that you can damage the vehicle's electrical system if you hook the jump box up backward, and the third is that the jumper cables or jump box must be routed or set in a safe location.
While it's true that a certain level of risk is involved in jump-starting a car, you can minimize it to almost nothing if you follow the correct procedures.
There are a few instances where jump-starting is a bad idea. For example, many hybrid vehicles have a 12-volt auxiliary battery that can be jump-started if it goes dead, but attempting to use this low-capacity battery to provide a jump-start to someone else is a bad idea.
The problem is that such a small battery may end up completely drained after providing a jump-start, which could leave you stranded. So while most hybrids can be jump-started, think twice before offering one to someone else.
There is another potential jump-starting issue that's associated with vehicles that have batteries that are difficult to access. Some of these vehicles have a remote positive terminal for charging and jump-starting the battery, and others require you to do some work to access the battery.
In cases where a remote terminal isn't available, it's typically a bad idea and potentially unsafe to jump the vehicle by using the positive terminal on the fuse box or any other connection that isn't the battery.
It is possible for your battery to blow up if you use a car jump starter, which is why it's important to hook up the cables correctly. If your battery is accessible, hook up the positive jump starter cable to the positive battery terminal first. If the battery isn't accessible, look for a remote positive terminal.
With the positive cable securely connected, locate a clean, unpainted part of the car's body, frame, or engine that isn't close to moving parts like the fan or accessory belts or near the battery.