Jump Starter
Top portable options for your portable jump starter
Sep 12, 2023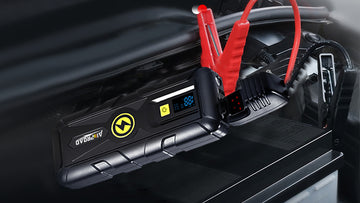 There's nothing worse than getting stuck with a dead car battery, especially if you're busy and on a schedule. A reliable jump starter is essential for bad weather, vehicles with older batteries and unforeseen circumstances. You can't always rely on someone nearby having jumper cables, either. And you definitely don't want to spend the money to get a professional if you can help it. That's why being self-reliant and getting your own portable jump starter is so important. As soon as your car battery dies, you can get it up and running almost as quickly with a jump starter.
Portable jump starters can be charged with an extension cord, wall-plug adapter, cigarette lighter-style 12-volt male adapter or a USB port in running vehicles. That means you can recharge your jump starter as soon as it recharges your vehicle. The best portable battery jump starters offer some combination of those four recharge options.
These portable batteriesdo what they were originally intended to do: boost the dead battery to make a vehicle start. All battery boosters come with jumper clamps that attach to the auto battery terminals, and nearly all include reverse polarity protection. Some come with easily installed, semipermanent attachments that let you quickly connect them to your vehicle's starting electrics without the booster clamps. Most of these battery jump starters have some sort of flash or area light and at least one USB port to charge electronics like phones and tablets. When it comes to jump starter packs, those features are only the start.
What else can it do? On a single charge, a portable car battery pack or charger can power your high-draw laptop computer several times longer than its own built-in battery. Want a battery booster with a built-in air compressor so you can fill up your raft at the lake or a low tire before you head home from the airport? No problem. Would you also like a jump starter or battery charger with an AC inverter so you can plug in a radio, a lamp or another small appliance during a power failure or at a campsite? Done. These power pack devices are basically the ultimate power bank. Do you need to charge your phone and another USB device (your kid's Nintendo Switch, for example) at the same time? Many of these have a dual USB port to accommodate your charging needs.
To be sure, these features add bulk and mass to a
jumper starter battery pack
(these devices won't fit in your glove box), but their value in capability, convenience and preparation can more than surpass the extra weight. After all, you want to have enough power to prepare for pretty much any emergency on the road.