Jump Starter
Why we need a jump starter and how to choose one?
Aug 28, 2023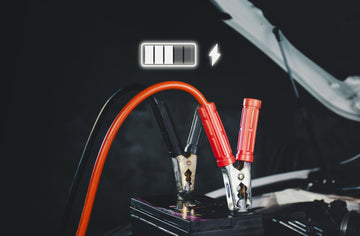 There aren't many worse feelings than the one you have after walking out to your car in the morning, turning the key, and realizing that it's out of battery. At this time, you will need a jump starter to start your car. While you could simply rely on jumper cables, you could keep a jump starter in your car, which allows you to jump-start your car easily without losing more than a few minutes of your day.
How much does a jump starter cost? Prices for jump starters range depending on what features they have, but it should be possible to find a decent option for $50 or $60. If you decide you do want a more sophisticated model, expect to pay about $150 or more.
How to choose a portable jump starter?
Portable jump starters are quite simple to compare to one another. These devices, sometimes called battery jump starters, are essentially heavy-duty backup batteries equipped with jumper cables, so take into account metrics like capacity, amperage, and interface ports.
Battery Capacity
Battery capacity is important because larger packs re-fire a greater number of vehicles and devices before they need to be recharged—bigger numbers equate to more capacity. Although some manufacturers measure battery capacity in terms of how many vehicles or devices it can charge, the standard unit of measure is milliampere hours (mAh). We recommend looking for jump starters that have at least 10,000 mAh of capacity, though you can get one that's nearly double that size, like our best overall pick.
Peak Amperage
Along with capacity, peak amperage is another important metric to look out for. This measures how much electricity the battery can supply in a given moment. More amperage generally leads to faster charge times and the ability to start bigger engines—as long as your vehicle can handle it. However, this is most relevant when starting your vehicle, as anything above 1,000 amps would fry your mobile device in an instant.
Additional Features
Outside of their main function, battery jump starters can also recharge phones, tablets, and other portable tech, so pay attention to interface ports. Most jump starters provide a number of USB ports, but the real kicker is to look for a 12-volt outlet. Along with faster charging, a 12-volt rail expands the range of devices that you'll be able to power.
AMPROAD iRock 40 Jump Starter is with the following good features and nice price.
4,000 peak cranking amps
Boost vehicles up to a 10.0 L gasoline or a 10.0 L diesel engine
24000mAh portable charger for your electronics
Power bank with multiple USB charging options
Build-in emergency LED functions : flashlight, SOS, strobe
A 12-volt port to power DC devices
Reverse Polarity Protection & Spark proof technology
EVA shake-proof carrying case