Jump Starter
Is the emergency car jump starter useful ?
Oct 15, 2023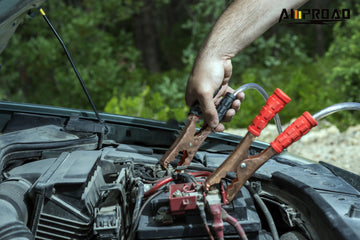 AMPROAD emergency car jump starter is a multifunctional portable power source developed for car enthusiasts and business travelers. Its primary function is to start a car when it has a low battery or cannot start for other reasons. In addition, it can combine functions such as an air pump, emergency power source, and outdoor lighting, making it an essential product for outdoor travel.
The design concept of the emergency car Jump Starter is ease of use, portability, and the ability to handle various emergency situations. Currently, there are mainly two types of emergency car jump starters on the market: lead-acid battery-based and lithium polymer-based.
Lead-acid battery-based emergency car jump starters are more traditional. They use maintenance-free lead-acid batteries, which are relatively large in size and have correspondingly larger battery capacity and starting current. These products typically come equipped with an air pump and have protection features such as overcurrent, overload, overcharge, and reverse connection indicators. Some products even have inverter functionality to charge various electronic devices.
Lithium polymer-based emergency car jump starters are more modern and compact, making them a recent addition to the market. They are lightweight and easy to handle, typically not equipped with an air pump. They have overcharge shutdown functions and offer powerful lighting capabilities to power various electronic devices. The lighting on these products often includes flashing or SOS remote LED rescue signal lights, making them quite practical.