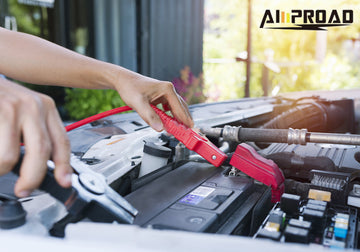 The design philosophy behind car Jump Starter focuses on simplicity of operation, portability, and adaptability to various emergency situations. Currently, there are two main types of car emergency starting power supplies available in the market: lead-acid batteries and lithium polymer batteries.
Types of Car Jump Starters:
Lead-Acid:
Traditional Flat Lead-Acid Battery: Its advantages include affordability, wide durability, and high-temperature safety. However, it has a large size, requires frequent charging and maintenance, and is not suitable for use in temperatures below 0°C.
Coiled Battery: These batteries offer affordability, small size and portability, high-temperature safety, suitability for temperatures below -10°C, straightforward maintenance, and a long service life. Nevertheless, they are larger and heavier compared to lithium batteries and have fewer features.
Lithium-Ion:
Polymer Lithium Cobalt Oxide Battery: This type is characterized by its compactness, aesthetics, multifunctionality, portability, and long standby time. However, it is sensitive to high temperatures, cannot be used in low-temperature conditions, has a complex protection circuit, cannot handle overloading, offers limited capacity, and high-quality products tend to be expensive.
Lithium Iron Phosphate Battery: These batteries are small, portable, aesthetically pleasing, possess a long standby time, and boast a long service life. They are more resistant to high temperatures than polymer batteries and can be used in temperatures below -10°C. However, they are unsafe above 70°C, have complex protection circuits, offer smaller capacity compared to coiled batteries, and are more expensive than polymer batteries.
Supercapacitor:
Supercapacitors are known for their compactness, portability, large discharge currents, rapid charging capabilities, and long lifespan. However, they are unsafe at temperatures exceeding 70°C, require complex protection circuits, offer extremely limited capacity, and are relatively expensive.
How to Operate a Car Jump Starter
Engage the manual brake, place the clutch in the neutral position, and verify that the starter switch is in the OFF position.
Position the emergency starter on a stable surface or a non-moving platform, away from the engine and belts.
Connect the red positive clip () of the "emergency starter" to the positive terminal of the battery that needs charging, ensuring a secure connection.
Connect the "emergency starter" black auxiliary clip (-) to the car's grounding pole, ensuring a firm connection.
Verify the integrity and stability of all connections.
Start the car.