Jump Starter
How can a car jump starter battery output such a large amount of current?
Oct 09, 2023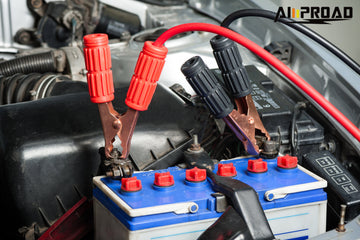 A jump starter is a portable battery device that allows you to  jump start a vehicle. It outputs a large amount of power in a short period of time, sending a very strong impulse via the alligator clips to kick-start a dead car battery. How can a car jump starter battery output such a large amount of current?
Remove the lithium battery inside the shell, much like an aircraft model battery, and even the power output is the same XT60 connector. The characteristics of this battery are fast charging and faster discharge, large battery capacity, relatively small size, long lifespan, and with protective plate. The manifestation of fast charging and discharging is the current, and the discharge coefficient is marked on the top of the battery. Charging is usually at 5C or 8C, while discharging is commonly at 25C or 35C. The maximum current is the capacity of the battery multiplied by a coefficient. For example, the discharge current at 2200mAh and 25C is 55A. If it needs to exceed 55A, it should also be possible, but jump starter battery pack cannot work for a long time.
Here Amproad recommend the best portable jump starters and provide advice on what to look for while you shop. A portable jump starter is a life saver to get you where you need to go quickly and safely if there isn't another driver around to give you a boost — or if you don't want to engage with a stranger while stranded. If the car battery is old won't hold a charge, a jump kickstarts the engine so you can drive to an auto store for a replacement. Amproad car jumper starter with powerful and compact emergency power supply, making you no longer worried about vehicles blocking the road. It occupies small space and can be permanently stored in the vehicle; Of course, it is also easy to carry.