EV home charger
Introduction of Major Electric Vehicle Charging Companies in the US
Sep 10, 2023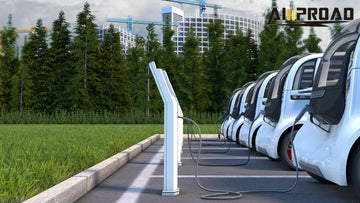 After China and Europe, the United States is the third largest ev charger market in the world.
According to a report by Grand View Research, the U.S. electric vehicle charging infrastructure market size will be $2.85 billion in 2021 and is expected to grow at a compound annual growth rate (CAGR) of 36.9% from 2022 to 2030.
The followings are the simple introduction to major electric vehicle charging companies in the United States.
1.Tesla
Electric vehicles maker Tesla owns and operates its own network of Superchargers. The company has 1,604 charging stations and 14,081 Superchargers in the world, located in public spaces and Tesla dealerships. No membership is required, but access is limited to Tesla vehicles equipped with the proprietary connector. Tesla can use SAE chargers with an adapter.
Costs vary based on location and other factors, but are typically $0.28 per kilowatt-hour. If you calculate the cost based on time spent, it's 13 cents per minute below 60 kWh and 26 cents per minute above 60 kWh.
All tesla ev charger stations are displayed on an interactive map on Tesla's on-board navigation system. Users can see all the stations along the route, along with their charging speeds and availability. The Supercharger network allows Tesla owners to get the best travel experience without relying on third-party charging stations.
2.Blink
The Blink ev charger owned by Car Charging Group Inc, operates 3,275 Level 2 and Level 3 ev chargers in the United States. The service model is that you don't need to be a member to use the Blink charger, but you can save some money if you become a member.
The base cost for Level 2 charging is $0.39 to $0.79 per kilowatt hour or $0.04 to $0.06 per minute. Level 3 fast charging is $0.49 to $0.69 per kilowatt hour, or $6.99 to $9.99 per charge.
Chargepoint
Headquartered in California, ChargePoint is the largest charging network company in the United States, with more than 68,000 charger stations, 1,500 of which are Level 3 fast ev charger.
This means that most charger stations are designed for Level 1 and Level 2 ev chargers at commercial locations during the working day. It's a perfect strategy to increase customer comfort when charging, but their network has significant shortcomings for interstate and long-distance travel, making it unlikely that EV owners will rely entirely on ChargePoint.
.
The base cost for Level 3 charging is $0.49 to $0.69 per kilowatt hour, or $6.99 to $9.99 per charge.
Electrify America
Electrify America is owned by automaker Volkswagen. Electrify America plans to install 480 fast-charging stations in 17 metropolitan areas in 42 states by the end of the year, with stations no more than 70 miles apart. No membership is required, but discounts are available for joining the company's Pass+ program. Charging costs are calculated on a per-minute basis and depends on location and the maximum power level the vehicle can accept.
For example, in California, the base cost is $0.99 per minute for 350 kilowatts of power capacity, $0.69 for 125 kilowatts of power, and $0.25 for 75 kilowatts of power, with a charge of $1.00 per minute. The Pass+ plan costs $4.00 per month and charges $0.70 per minute for 350 kW, $0.50 per minute for 125 kW, and $0.18 per minute for 75 kW.
EVgo
Headquartered in Tennessee, EVgo maintains more than 1,200 DC fast chargers in 34 states. Rates for fast charging vary by region. For example, in the Los Angeles, California area, it's $0.27 per minute for non-members and $0.23 per minute for members. Signing up costs $7.99 per month, but includes 34 minutes of fast charging. Either way, Level 2 rates are $1.50 per hour. It should also be noted that EVgo has an agreement with Tesla and EVgo fast charging stations are available to Tesla owners.