EV home charger
Introduction of electric vehicle charging equipments in United States
Oct 12, 2023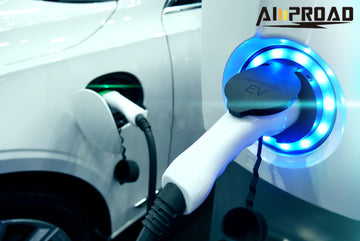 With the development of society and the emphasis on environmental protection, more and more consumers choose new energy vehicles instead of fuel vehicles. This caused the ev charger become a necessary. Many people may have questions such as ev charger near me, ev charger cost, ev charger map, ev charger types and so on.
The followings will be the simple introduction of electric vehicle charging equipments in United States.
1.EV charger Quantity
Taking public ev charger as an example, there are 138,000 in the United States. For DC ev charger, the United States has 31,000. The ratio of vehicle to ev charger is 26.6:1. ‍
In year 2021, America's Infrastructure Act provides $7.5 billion to support the ev charger instalation and will build a network of approximately 500,000 charging stations along federal highways. However, according to the U.S. Department of Energy's Alternative Fuels Data Center (AFDA), as of early May this year, there were only 52,660 public ev charger stations across the United States, including approximately 138,000 public ev chargers.
Among them, AC ev chargers are the main ones, with about 106,000 units, and DC fastev chargers are about 31,000 units.
At the same time, due to the lag in this field, the United States has made clear regulations on the nationwide electric vehicle charging facility network: all electric vehicle ev charger including the home level 2 ev charger receiving federal funding must be produced in the United States; starting from July 2024 , at least 55% charging station components must be made in the United States.
EV charger Features
Charging equipments in the United States have newer characteristics. For example, starting in 2022, the proportion of ultra-high-power facilities will increase significantly. The construction of charging facilities in the United States is quite targeted, with more than half of the fast ev charger exceeding 250kW. The construction cycle of charging facilities is matching the fast charging needs of vehicles.
In the DC fast charging network, Tesla Super ev charger accounts for 60.3%, then followed by Electrify America accounts for 12.7%, and EVgo accounts for 8.4%.
Among charging networks in the United States, ev charger points has the most public ev chargers, accounting for 40.6% (AC charging piles accounts for the majority). The new generation of operators Electrify America, EVgo, Francis Energy, FPL EVolution, Rivian Adventure Network and Tesla Supercharger are mainly or entirely composed of DC fast charging piles (DC fast ev chargers).
EV Charger Distribut Location
The distribution characteristics of public charging piles in the United States are obviously uneven: states with the highest per capita income have more ev chargers per 10,000 people. For example, Nevada, Colorado, Washington, D.C., Florida and California have the highest number of chargers per 10,000 people. The U.S. has a national average of 2.4 ev chargers per 10,000 people, and 60 percent of the lowest-income counties have no EV chargers.
In the five lowest-income states (Mississippi, Arkansas, Kentucky, Alabama and Louisiana), there are fewer than two ev chargers per 10,000 people.
Additionally, white communities have 3.03 ev charger per 10,000 people, which is twice the number in Black or African American counties and nearly 2.7 times more than the number in majority Indian and Alaska Native counties.
In general, the development of charging equipments in the United States faces a series of challenges. While driving market demand, it also needs to pay attention to the development of local manufacturing. This requires finding a balance between expanding scale and developing local manufacturing. At present, mainstream institutions in the United States generally believe that if electric vehicles are to be widely used, the construction of charging infrastructure is undoubtedly a big threshold.