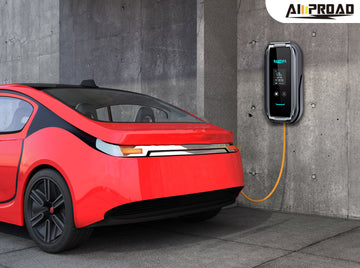 Living in the technology-driven Silicon Valley, it won't be surprised that our country has pioneered innovation in electric vehicles and battery technology. California has set an ambitious goal to get one-third of its electricity from renewable sources by the end of 2020, and half by 2030. To achieve this goal, the state actively encourages the use and sale of hybrid and plug-in electric vehicles. Because of this and other factors, California is the top one in selling all-electric and hybrid vehicles in the United States. As car charger ev is the necessary to an electric vehicle, there will be a very bright future for the ev charger business.
Benefits of electric vehicles:
1.Tax breaks: California offer tax incentives to reduce the upfront cost of electric cars, trucks and motorcycles. The government offers rebates of up to $2,500 on plug-on electric vehicles, or $1,500 for hybrid electric vehicles. Currently, drivers in the San Joaquin Valley and Los Angeles also can receive additional incentives from California. Federal incentives are up to $7,500 on plug-on electric vehicles. Even there are tax credit for the one to buy car charger ev.
Entering High Occupancy Vehicle (HOV) Lanes

: In California, all hybrid and plug-in electric vehicles are generally allowed to apply for a permit to use HOV (or "carpool") lanes.
Parking discounts and promotions

: In California, the driver who owns the hybrid and plug-in electric vehicles will engjoy the packing discount and promotion.
Environmental benefits and cost savings

: Driving an electric vehicle reduces air pollution and saves money by using less gas. In California, home utility rebates can be used to limit increases in a home's electric bill.
How to charge electric vehicles: you need to us an ev charger to charge your vehicles, there are 3 types.
1.Level 1 ev charger: it is also know as slow ev charger for it common need more than 12 hours to charge. It can plug into a standard household, 120-volt outlet. Most plug-in electric vehicles come with a 120-volt ev charger.
2.Level 2 ev charger: it is also called by home ev charger. You need to upgrade your home appliances to 240-volt capacity, then you can install it at home, just need about few hours to charge your vehicles.
Level 3 ev charger:

it is also famous by super ev charger, can charge your car in one hour. But you just can use it in public charging stations , such as tesla ev charging stations.
How to find charging station
When you have a long distance travel, it is very important to considering the charging problem if you drive electric vehicles. You may wondering how to find the charging station, where is the electric charger near me, can the ev charger station works well ?
In Unites States, there are two kind charging stations, one is Tesla, other is non-Tesla. Most tesla charging points is belong to super ev charger station, it just can supply charging service to the Tesla vehicles. Non-tesla stations are woned by many different charging networks such as Chargepoint, Evgo, Blink,Flo and so on.
Use Map to find the electric charger near me.

Use charging network App to find the charging stations.

You can find the tesla ev charging stations in your vehicles.