EV home charger
Tesla's first V4 Super charging stations in the U.S. completed and about to operate
Oct 29, 2023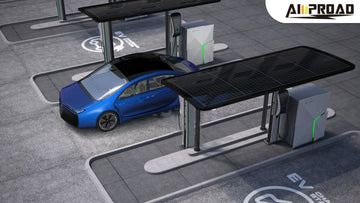 Tesla V4 super charging stations have completed the first batch of deployments in many European countries, and now they have finally began to expand in North America. They are expected to be popularized in Asia and other places in the future. According to reliable sources, Tesla has installed the first eight V4 evse charger at charging stations in Wilsonville, Oregon and Sparks, Nevada, and these evse charger stations are expected to begin operations this month.
Tesla may adopt a similar approach to Europe and gradually begin deploying V4 car charger at a small number of charging stations in some regions, and add more deployments month by month. In addition, the new V4 car charger has obvious differences in appearance from the previous V1-V3 models. In addition to the color changing from red and white to black and white, the V4 electric battery charger is taller and has a cable connected to the top side, then it can support to use by non-Tesla owners.
In addition, the North American electric vehicle industry is planning to move from the CCS1 charging interface to Tesla's NACS standard. Tesla's new V4 electric battery charger station will be an important milestone in this transformation, providing electric vehicle users with more convenient and efficient charging services.
Referring to the V4 Super Charging Station launched by Tesla in the UK, users can choose a convenient payment method by scanning the QR code and using the Tesla App to pay, or choose to pay with a credit card. Tesla UK has confirmed that V4 Super electric car stations near me's power can up to 350kW, which is higher than the current power output of 250kW. In addition, at the V4 super electric car stations near me in the Netherlands, the maximum charging current reaches 615A, an increase of 31% compared to before.
For Tesla owners, the completion of the installation of V4 electric vehicle chargers near me means that they will be able to make long-distance trips more easily and no longer need to worry about long charging times. The completion of Tesla's first batch of V4 Super ev charger installations in the United States is an important milestone and will have a positive impact on the development of Tesla and the electric vehicle industry. It will provide Tesla owners with a better charging experience and promote the development of electric vehicles. Popularize and promote the development of sustainable energy.