Jump Starter
What is the difference between a jump starter and a car battery charger?
Sep 03, 2023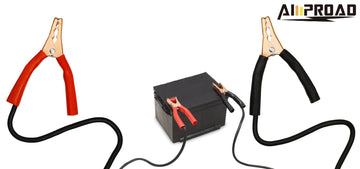 A jump starter simply provides a jolt of power to a vehicle's battery, providing the vehicle with enough juice to start the car on its own. Battery chargers provide a slow, steady trickle to the battery to top it off over a much longer period of time and then maintain that charge. Jump starters do not charge the battery significantly—that's where the vehicle's alternator comes in.
We talked to the experts at Optima batteries about this, and they recommend using a battery charger as soon as possible if you don't need to jump your vehicle. Alternators aren't designed to recover deeply discharged batteries, and doing so can decrease the life span of both the alternator and battery. In short, jump the vehicle, get where you need to go, and then put your battery on a charger for best results.
Can you store a jump starter in your vehicle?
Yes, especially the smaller lithium-ion battery portable jump starters—that's what they're designed for. Store it in your glove box, under the seat, in the trunk, wherever you can find room. Just note that extremely cold temperatures can weaken its potency, so we recommend recharging it every six months or so, just in case.
Portable jump starters are quite simple to compare to one another. These devices, sometimes called battery jump starters, are essentially heavy-duty backup batteries equipped with jumper cables, so take into account metrics like capacity, amperage, and interface ports.
If you like to have acar battery jumper starter, We will recommend Amproad car jumper starter for your reference.
AMPROAD iRock 40 Jump Starteris with the following good features and nice price.
4,000 peak cranking amps
Boost vehicles up to a 10.0 L gasoline or a 10.0 L diesel engine
24000mAh portable charger for your electronics
Power bank with multiple USB charging options
Build-in emergency LED functions : flashlight, SOS, strobe
A 12-volt port to power DC devices
Reverse Polarity Protection & Spark proof technology
EVA shake-proof carrying case