Jump Starter
How long does a car jump starter take to jump-start a car? And the lifespan of a car jump starter?
Oct 31, 2023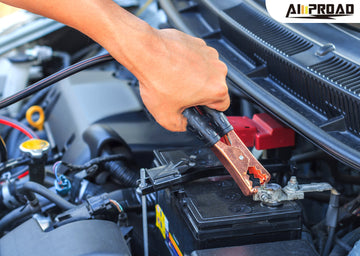 Portable car jump-starters are mysteriously little boxes, and they can be the most handy-dandy objects you keep in your vehicle. They are much safer and easier to use than jumper cables. You just clamp them directly onto your battery terminals, turn it on, and after a few seconds, try to start your car.
If you're going to jump-start your car with a portable vehicle jump starter by yourself, you can expect the process to take about 10-15 minutes. If you have a professional jump-start your car, then it might take a little less time.
Typically, a modern lithium battery's lifespan is 2–3 years, which is about 300 to 500 fully charge cycles as rated by manufacturers. There is no problem to jump-start the car battery once. However, if you have to jump-start your battery up to three times a week, it's time to get a replacement, as it is probably damaged.
If you have demand on car battery jumper starter, we will recommend the best portable jumper starter with great discount now.
AMPROAD car Jump Starteris with the following good features and nice price.
4,000 peak cranking amps
Boost vehicles up to a 10.0 L gasoline or a 10.0 L diesel engine
24000mAh portable charger for your electronics
Power bank with multiple USB charging options
Build-in emergency LED functions : flashlight, SOS, strobe
A 12-volt port to power DC devices
Reverse Polarity Protection & Spark proof technology
EVA shake-proof carrying case