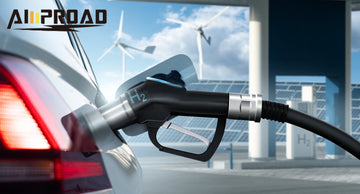 EV Charger to the new energy electric vehicles is something like the gasoline to the traditional fuel vehicles. As the core demand of vehicles, ev chargers are deeply related to the driving experience of the vehicle. They are divided into two categories: AC and DC. Normally, AC level 1 charging has a power of 1-2KW and use a 110V single power supply. AC level 2 charging has a power of 7-11KW and use a 240V single power supply. DC one have multiple power levels such as 20, 50,100, 150, and 350KW.
Of course, the charging power of the vehicle is also different based on different ev chargers.
Most AC ev chargers are commonly known as slow ev charger. Generally, when you buy a new energy vehicle, the original car will come with a portable level 1 1.3kw ev charger. The power is about 1.3kw. It means that it can charge about 1.3 kilowatt in one hour.
This kind of car charger is suitable for home 110v power supply scenarios. However, when using it, the power supply must be well grounded, otherwise it cannot be used.
Level 2 ev chargers are also called by fast ev charger, its power is from 7kw to 12kw. When you buy a new energy vehicle, most manufacturers will also give you a 7.2 kw ev charger. This kind of ev charger can connect to 240v power supply at home, and the manufacturer will help to install it.
In the market, most branded vehicles has a rated power at 11kw such as Tesla Model 3. To charger these vehicles, it'd be nice to choose the suitable level 2 ev charger 40A or 48A for home fast charging. Even to choose larger power ev charger to charge your cars, it won't be usefull.
Some Vehicles such as Tesla that support high-power AC charging will use 240v 48A 11.5 kw ev charger.
Other larger power charger such as DC 350 kw ev charger will used in ev charger station, which is called by super ev charger or level 3 ev charger and will charge your vehicles in very short time.
Amproad is a professional ev charger manufacturer located in Canada, focused on Noth America market. Amproad iFlow ev charger is a level 2 ev home charger whose power consumption is about 9.6kw which will help you to charge at home convenient.