EV home charger
Common Question about Electric Vehicle Charging
Oct 23, 2023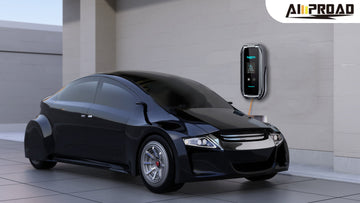 Oil is very important to the development of society, but it is a non-renewable resource, so people must to develop the new engry, for it is a renewable rescouce. Vehicles as a important part of it, this caused more and more person choose to have an electric vehicle. Electric vehicle charging is the most serious thing for the owner.
The followings are the common question about electric vehicle charging.
Question 1: Can I plug my electric vehilce into a regular outlet?
Yes, Level 1 ev charger can be plugged into a regular household outlet at 120 volts because they don't use that much power, charging time need more about 15 hours. But level 2 ev charger require the installation of a 240 volts outlet. Now most people prefer to have home ev charging stations because it will be more convenient and cost-saved.
Question 2: How do EV charger work?
The EV charger draws power from a 120V outlet (L1), a 240V outlet (L2), or its hardwired grid to deliver power to the vehicle. It's like charging your phone through a charger line into an outlet.
Question 3: Can I let an ev charging stations work overnight?
Yes, It is completely safe to leave electric vehicle charging stations to work overnight. Electric cars are able to prevent the battery from overcharging, so you don't have to monitor activity if you plug it in at night.
Question 4: Can I used Tesla wall mount connector to charge other brand cars
No, you can't. There are two kinds ev charger in U.S, Tesla and Non-Tesla.If you to want to use non-Tesla ev charger to charge Tesla cars or use Tesal ev charger to charge non-Tesla cars, you must need J1772 to Tesla adapter
Question 5: How to find public electric vehicle charging station?
Your can find the public electric vehicle charging station via charging operator app, vehicles app and google map.
Question 6: Do i claim ev charger tax credit?
Yes, you can claim ev charger tax credit in United States. The government is support citizens to buy electric vehicles, so there are discount for the ev chargers.
Question 7: What is the famous ev charger stations in U.S.?
There are many famous ev charger stations opertors in U.S, such as Tesla, Dodge, Chargepoint,Flo, VEVOR,Amproad and so on
Question 8: Can I install ev car charging station at home by myself?
No, please do not to install ev car charging station at home by yourself. Unless your installation is the level 1 ev charger, which features easy-to-do installation ,just to plug into your common outlets. If you need to install level 2 ev charger, it's best to hire an electrician to help you, which will be safety.
Question 9: What's ev charger types?
There are 3 types, level 1 ev charger also called by slow ev charger, level 2 ev charger named by home ev charger, level 3 ev charger also know as super ev charger.
Question 10: How much do ev charger cost ?
This is based on which ev charger to choose, the price is from 100 usd to 1000usd. Amproad iFlow P9 EV charger just cost 359.99usd and with free shipping.