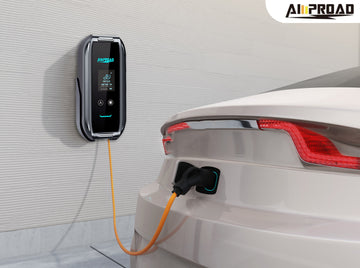 The era of electric vehicles is coming. More and more electric vehicles can be seen in the road in United States. The biggest problem of electric vehicles is undoubtedly the problem of battery life and charging. Installing a home ev charger at home can solve this problem very well.
In North America, Electric vehicles can be divided into two categories: Tesla and non-Tesla. Non-Tesla mainly consists of electric vehicles from traditional car manufacturers such as Chevrolet, Ford and Volkswagen. They follow the SAE J1772 standard and use the Common Charging System (CCS). Tesla has a proprietary charging port (just like the iPhone used to charge through Apple's unique Lightning port, while Android phones all used Type-C ports).
The followings are the tips for purchasing home ev charger.
Have a maximum current rating of at least 32A.

To provide the fastest possible home charging, Level 2 ev charger runs on a 240-volt circuit, delivering 16 to 80 amps to your vehicles. Since most electric vehicles come with portable ev charger (level 1 ev charger or slow ev charger) which can capable of slow charging from a standard 120-volt socket, a suitable home ev charger would be no less than 32 amps.
Have a cable at least a 20 feet long.

Although longer cables tend to be thicker and more inconvenient than shorter cables, but long cables are critical to an home ev charger to ensure it reaches the vehicles charging port. A typical two-car garage is 20 to 24 feet wide, so it's not recommended to buy any ev charger with a cable shorter than 20 feet. The National Electrical Code (NEC) established by the National Fire Protection Association (NFPA) has an upper limit of 25 feet.
Has a NEMA 14-50 plug/or can be hardwired

. Generally speaking, hardwiring is preferable to plug-in installation because it creates a more seamless (and therefore more energy-efficient) connection between your home's wiring and the home ev charger. Hardwiring also provides greater protection from outside influences (critical if you plan to install the level 2 ev charger outdoors) and can deliver 15 A to 60 A to your vehicle, while nema 14-50 ev charger connection can only handle 15 A to 50 A. Since everyone's life circumstances and needs are different, we can't say which one is better; it would be better if both installation options were available.
Has a Nationally Recognized Laboratory (NRTL) Certification

: Approval issued by Underwriters Laboratories (UL), Intertek Electrical Testing Laboratory (ETL), or any other testing agency recognized by the U.S. Department of Labor's Occupational Safety and Health Administration (OSHA) .The seal indicates that the product meets strict safety and compliance standards.
Has a warranty no less than 1 year.

A year is enough for you to charge regularly to make sure it's not a defective product. However, a longer warranty would also be better in case parts break or the home ev charger breaks unexpectedly.
Has a well safety to use outdoors

. If you typically park your car in a carport or other outdoor parking space, you'll want to make sure your best ev charger is protected from dust, rain, and other harsh conditions. Even if you plan to place the charger in a closed garage, it will still be exposed to the air to a lesser extent when the door is open. It's recommended to prioritize home ev charger with stronger intrusion protection (IP) or National Electrical Manufacturers Association (NEMA) ratings (two common ratings of weatherproofing), as well as those that can withstand more extreme temperatures.
Amproad iflow p9 ev charger is a kind of 2023 best level 2 ev charger for home which can meet the above tips, so it is a good choice when you need to buy a home ev charger. It is 10A /16A /24A /32A /40A adjustable with a 25 feet long cable. It is nema 14-50 Industry-standard J1772 plug with good Leakage protection and high TEMP Protection, which will be safe when use outdoor. And also provide 1 year warranty.